DGE Tamil Nadu may announce TRUST exam result 2022 in online mode tentatively in the last week of March 2023. The result of Tamil Nadu Rural Students Talent Search Examination or TRUST Exam is announced on dge.tn.gov.in. Class 10 students can also check NTSE result 2022 stage 1 Tamilnadu, if they appeared for the same.
Latest Update: Click here to download Final trust exam question paper 2022 Answer Key.
Around 50 girls and 50 boys will be selected from each district of Tamil Nadu state. Thereafter, selected students will have to submit the required documents for verification. Read below to know more about TRUST result 2022.
TRUST Exam Result 2022 Dates (Expected)
Students can download TRUST exam result 2022 pdf from this page, once available. TRUST result 2022 is made available in form of merit list, too. The merit list of TRUST exam 2022 comprises the name, application number and other details of students selected for scholarship.
Below we have provided
| Events | Dates |
| --- | --- |
| Application date | December 12 to 17, 2021 |
| Exam date | January 24, 2022 |
| Result date | Last week of March 2023 |
How to Download TRUST Result 2022?
You can follow the step-by-step process to view TRUST exam result 2022: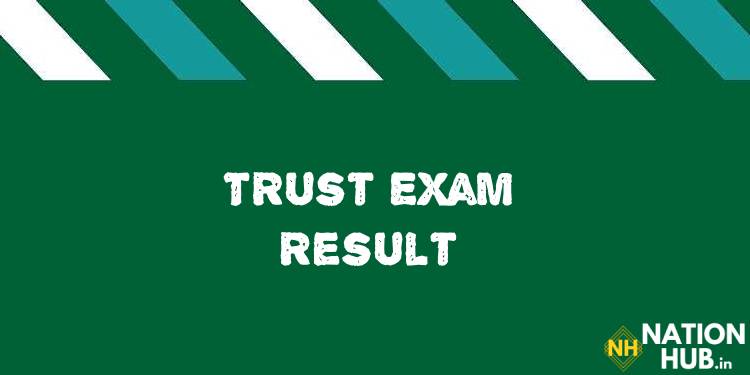 Go to the official website: dge.tn.gov.in
Click on the link of 'Tamil Nadu Rural Students Talent Search Examination 2022'.
A new page is shown on the screen, now, click on the link of result and it will lead to a pdf file of merit list.
Download TRUST exam result 2022 pdf and check your application number or name in the list.
Take a printout or screenshot of the same to use later.
Details mentioned – Trust Exam Result 2022 in Tamil Nadu
The result will be announced in form of trust exam result 2022 pdf of selected students. This merit list will include details about selected students of 9th standard trust exam 2022.
The following details will be shared through online Trust exam result 2021 in Tamilnadu
Student name
Roll number
Application number
Trust exam details in Tamil
Student's district
School name
Trust exam pass mark
Also Check
TRUST Exam 2022 Answer Key
Directorate of Government Examination, Tamil Nadu has provided the final TRUST exam answer key 2022 in February 2023. The answer key of Trust exam 2022 is available online on www.dge.tn.gov.in and through the direct link given above. The tentative TRUST Tamil Nadu exam solution 2022 was released in January 2023.
Trust Exam Meaning in Tamil
TRUST exam stands for Tamil Nadu Rural Students Talent Search Examination. Its meaning in tamil language is "கிராமப்புற மாணவர்களின் திறமை தேடல் தேர்வு"
FAQs Related to Trust Exam Result 2022
Where is TN trust exam result declared?
The result of Trust exam 2022 is declared on the official website: dge.tn.gov.in.
What is dge.tn.gov.in contact number?
Students may reach to DGE, TN by call and Email on the following contact details:
Contact number: 044-28272088
Contact Email: directordge.tn@nic.in.
What are the Trust exam pass marks?
A toal of 100 students are selected from each district, but the pass marks of Trust exam are not available with us.
For any kind of query related to TRUST result 2022 or any other exam, you can do comment below. Class 8 students can also check NMMS result 2022.