AEEE 2023 Exam – Amrita Vishwa Vidyapeedham conducts the AEEE exam for BTech admissions across four campuses Amritapuri, Bengaluru, Coimbatore, Chennai and Amaravati. Candidates are selected based on the AEEE Scores, JEE Mains, SAT and PUEEE Scores.
AEEE 2023 is expected to be held in various phases. Read out the article to understand the application process, exam schedules, admit card release and other details.
AEEE 2023 Important Dates
Amrita Engineering Entrance Examination 2023 is scheduled to be held in various phases. Exact dates of AEEE 2023 are mentioned on the admit card. We will update the schedule once it is announced by  Amrita Vishwa Vidyapeedham on the official website.
| | |
| --- | --- |
| AEEE 2023 Events | Dates |
| Commencement of Registration | November 19, 2022 |
| Last date to Registration | To be announced |
| Last Date to Book the slot | To be announced |
| Release of AEEE Admit card | To be announced |
| AEEE 2023 Exam Date | To be announced |
| AEEE Result 2023 | To be announced |
| AEEE Rank 2023 | To be announced |
| Counselling for AEEE 2023 | To be announced |
| Last Date for Registration | To be announced |
| First Allotment | To be announced |
| Second Allotment | To be announced |
AEEE 2023 An Overview
Check the overview of AEEE 2023 that covers the complete schedule of the examination.
| | |
| --- | --- |
| Name of the examination | Amrita Engineering Entrance Examination |
| Exam Conducting Body | Amrita Vishwa Vidyapeedham |
| Number of Phases of examination | three |
| Mode of Application | Online |
| Mode of Exam | Online Remote Proctored Test |
| Frequency of Exam | Once in a year |
| Duration of Exam | 90 Minutes |
| Official website | www.amrita.edu/admissions/btech/ |
AEEE Eligibility Criteria 2023
The exam conducting body has set eligibility criteria for the candidates who apply and appear for AEEE 2023. They are: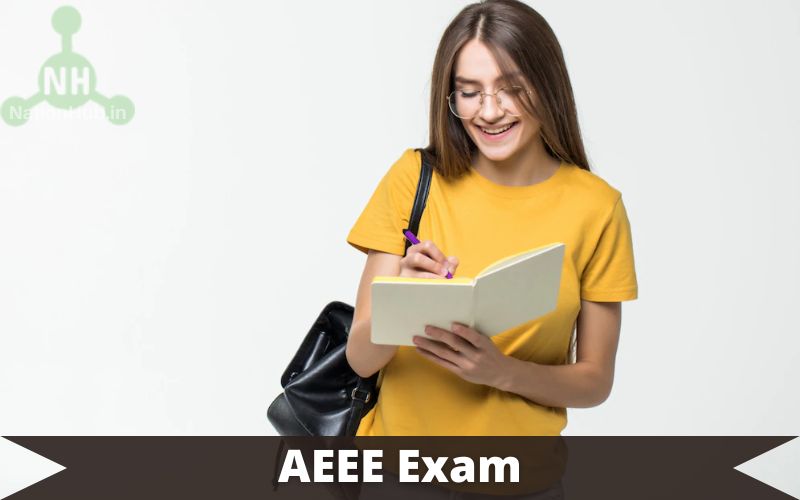 Candidates should have been born on or after July 1 2001.
Candidates should have passed 10+2 or or any equivalent education from the recognised institute.
Minimum marks required to score is 60% in Mathematics, Physics & Chemistry. Not less than 55% in these subjects.
Candidates seeking admission with Pearson UG Entrance Examination should have to score at least 75% in PCM and not less than 75% in Mathematics.
The official autoprity has activated the AEEE Application 2023 window on the official website. AEEE Registration 2023 were commenced from November 19, 2022. Candidates may log on to the main portal and follow the steps involved in the AEEE Application process 2023. Application process of AEEE 2023 includes the following steps:
Registration
Application form filling
Uploading required documents
Pay AEEE 2023 application form fee
Take a print out
AEEE Syllabus 2023
Check the latest AEEE 2023 syllabus prescribed by Amrita Vishwa Vidyapeedham for Mathematics, Physics and chemistry
AEEE Mathematics Syllabus 2023
| | |
| --- | --- |
| Complex Numbers | Differential calculus |
| Permutation & Combination | Integral Calculus |
| Binomial Theorem | Two Dimensional Geometry |
| Matrices & Determinants | Straight Line and a Pair of Straight Line |
| Quadratic Equations | circles and Family of circles |
| trigonometry | conic Section |
| Probability | Vector Algebra |
| Measures of Central Tendency and Dispersion | Three-Dimensional Geometry |
| Differential Equations | |
AEEE Chemistry Syllabus 2023
| | |
| --- | --- |
| Basic Chemical Calculations | Thermodynamics |
| Atomic Structure and Periodicity | Chemical and Ionic Equilibria |
| Chemical Bonding | Chemical Kinetics |
| S-Block and Hydrogen | Basic Organic Chemistry |
| D & F block elements | Hydrocarbon and Polymers |
| Solid State | Organic Halogen Compounds |
| coordination compounds | Stereochemistry and Organic Nitrogen Compounds |
| Gaseous State and Surface Chemistry | Organic Functional Groups – Hydroxyl, Carbonyl compounds and Ethers |
| Colligative Properties | Biomolecules and Environmental Chemistry |
| Electrochemistry | P-Block Elements |
AEEE 2023 Physics Syllabus
Check the topics included in the physics
Units and Dimensions
Mechanics
Solids and Fluids
Oscillations and Waves
Heat and Thermodynamics
Electrostatics, current electricity and Magnetostatics
Electromagnetic induction and Electromagnetic Waves
Ray and Wave Optics
Modern Physics
Preparation Tips for AEEE 2023
Aspirants who have applied for Amrita Engineering Entrance Exam 2023 are suggested to follow the tips for preparation:
Once the syllabus is published on the official site, download AEEE Syllabus 2023 PDF.
Go through the Syllabus pdf once or twice. Search for the books or study materials based on the syllabus version.
Choose books that are simple in language and easy to understand.
Read and understand the concept to get used to the topics.
Take mock tests from online applications. Try to solve more tests to get used to the topics.
Collect previous year question papers. Solve at least two papers in a day and evaluate the answers.
Focus on the weaker sections and prepare for them.
Revise adequately. Revision enables us to manage the timing for the examination.
Candidates who applied for the AEEE 2023 are issued with the AEEE 2023 Admit card in June 2023 for phase I and July for Phase II. Log on to the official site and enter the input credentials to view and download the admit card. It is necessary to remember the input credentials to download the document. Aspirants can find the timing, exam centre of the entrance exam on the AEEE Admit card 2023. 
AEEE 2023 Answer Key
Soon after the examination is over, the exam conducting body will release the provisional AEEE 2023 Answer key. It is claimable for challenge and candidates can submit relevant documents to challenge the answer key. Later, the exam body will release the final AEEE Answer key 2023 after revisions.
Candidates who appeared for Amrita Engineering Entrance Examination 2023 can expect the AEEE 2023 Result tentatively in August 2023. Using the login credentials like Registration Number and AEEE Admit card 2023 number, candidates may view and download AEEE Result 2023 PDF. Knowing the status of qualifying, candidates may proceed with the further process like AEEE 2023 counselling. AMU will release a merit list based on the AEEE Cutoff 2023 of the candidates.
AEEE Cutoff 2023
AEEE 2023 cutoff is declared by the exam conducting body. Several factors are considered to set the cutoff such as number of candidates appearing for the examination, Number of Seats, previous year AEEE Cutoff, toughness of the question paper, etc. AMU will prepare the merit list for the AEEE Counselling 2023 on the basis of the cutoff of the candidates.
AEEE Counselling 2023 Process
Amrita Vishwa Vidyapeedham calls for counselling process for the eligible candidates with maximum AEEE 2023 Scores. As per AEEE scores, the exam body releases the AEEE Rank 2023. Apart from AEEE Scores 2023, SAT, JEE Mains, SAT and PUEEE scores are also accepted to fill admission for B.Tech degree programmes.
Steps of AEEE 2023 Counselling Process
Registration
Application for counselling
Uploading documents
Seat Allotment
Document verification
Admission
Key Facts of AEEE 2023 Counselling Process
Following facts of AEEE Counselling process 2023 enables the aspirants to face the session without hassles.
AEEE 2023 is online mode of exam
AEEE Counselling process 2023 is also conducted online through CSAP Registration
Candidates willing to appear for Centralised Seat Allotment Process should pay Rs. 5000 as registration fee through debit/ credit card or Net Banking.
Application fee for CSAP is same for those with JEE Mains, SAT and PUEEE Ranks 2023.
There are few rounds of seat allotment involved in the CSAP method that confirms the admission.
Required Documents for AEEE 2023 Counselling
Aspirants are required to submit the following documents for AEEE Counselling 2023. They are:
Class 10 certificate as proof of birth date
Class 12 mark sheets
Class 12 exam admit card
HSC Grade transfer certificate as proof of domicile residence ship.
Caste Certificate (if any)
Recent photograph
FAQs Related to AEEE Exam 2023
What are the phases of Amrita Engineering Entrance Exam 2023?

There are several phases in AEEE 2023 that occur in the months of June, July and August 2023.

What is the process involved in AEEE 2023 Counselling?

Centralised Seat Allotment Process is conducted to fill the admission for BTech programmes.