APOSS Result 2023 – Andhra Pradesh Open School Society has released AP Open School results 2023 for SSC and inter exams in online mode. The result of APOSS is announced on May 22, 2023. Students can access their APOSS result 2023 10th & 12th Class from the official website. 
APOSS Inter Results 2023 Link Available
APOSS SSC Result 2023 Link Available
They will have to enter hall ticket number to check AP open school results in online mode. The online result is provided in the provisional form and original APOSS certificates will be distributed by respective AI centres. APOSS result 2023 intermediate is released on the same day of AP Open 10th result 2023.
The online apopenschool.ap.gov.in 2023 result will mention a student's basic details along with marks secured in exams to be held in March 2023. Stay tuned here to know more about AP open school inter result 2023 and SSC results.   
APOSS Result 2023 Dates
Students must check the AP open school result dates and exam dates for better understanding.
APOSS Results Date 2023 (Intermediate and SSC) 
| Events | Dates |
| --- | --- |
| APOSS Class 10 & 12 hall ticket release | March 20, 2023 |
| Exam date for class 10th and 12th | April 3 to 17, 2023 |
| AP open result date (SSC & Inter) | May 22, 2023 |
| Supplementary exam dates | Second and third week of June 2023 |
| APOSS June/July 2023 result date | First week of August 2023 |
How to check APOSS Result 2023? 
Students can access their AP Open school exam results 2023 in online mode only. Students can follow the given steps to check the APOSS exam results 2023 for inter and SSC:
Browse the official website: apopenschool.ap.gov.in.
Scroll down and find the link of "10th/12th AP Open Result March-May 2023". Click on the same link.
Now, enter a student's hall ticket number in the given field and submit it.
The APOSS online result 2023 will open on the screen.
Take a printout or screenshot of the same to refer later.
Details Mentioned on APOSS Result 2023
The following details are shared through 10th and 12th Class AP open school result 2023. Students should ensure the accuracy of details.
Hall ticket number
Candidate's name
District name and code
AI name
Subject name and code
Maximum mark of a subject
Obtained marks of a subject
Subject-wise result and grade
Grand total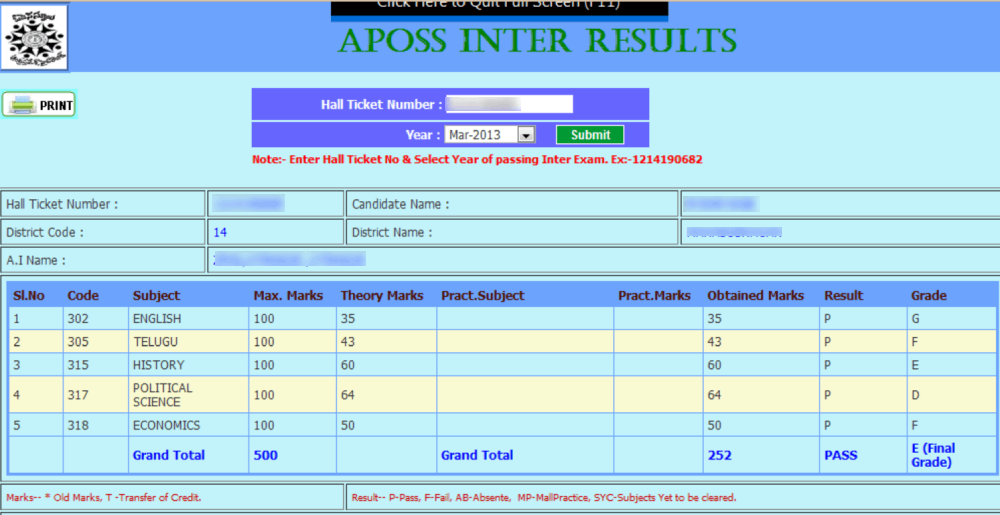 APOSS Result 2023 – Re-counting of Answer Scripts
Students who are not happy with their 10th result or 12th class result can apply for recounting of their answer scripts.
Students should note that this marks re-counting facility is available only for theory subjects. They can not apply for re-counting of practical exam marks.
In this process, it is ensured that

All the answers have been evaluated.
Marks have been awarded properly for each answer
The total of marks is correct.
Re-verification & Apply of Photocopy of Evaluated Answer Script
Students can also go for re-verification of APOSS result 2023 and apply for obtaining a photocopy of their evaluated answer sheet.
They will have to pay Rs. 1000 per subject for the same.
Know About SSC Exam Articles
Meaning of Abbreviations mentioned in APOSS Result 2023
| | |
| --- | --- |
| Abbreviation | Meaning |
| T | Transfer of Credit |
| P | Pass |
| F | Fail |
| AB | Absentee |
| MP | MalPractice |
| SYC | Subjects yet to be cleared |
APOSS SSC & Intermediate Result 2023 for Supplementary Exams
Students who are unable to pass the April/May exams will be eligible to appear for supplementary exams. Thus, students can get one more chance to clear exams and save a year of academic study.
Supplementary exams for the 10th and 12th classes will be conducted from the second week to the third week of June 2023.
APOSS result 2023 for supply exams will be released in the first week of August 2023. 
What after APOSS Result 2023?
After the announcement of APOSS Exam results 2023, SSC passed students will need to choose a stream to pursue further studies. 
Students who will pass in APOSS inter exams will be eligible for further studies. They need to choose a UG course and apply for admission to Universities and Colleges.
APOSS 10th Result – Past Year Statistics
| | | | |
| --- | --- | --- | --- |
| Exam Year | Registered Students | Appeared Students | Passed Students |
| 2014-15 | 49503 | 47805 | 35931 |
| 2013-14 | 38287 | 49867 | 32477 |
| 2012-13 | 54634 | 69983 | 33869 |
| 2011-12 | 58746 | 74181 | 44656 |
| 2010-11 | 44128 | 52220 | 33738 |
Also Read Class 12 Articles
FAQs Related to AP Open School Results 2023
What are the passing marks of APOSS SSC and intermediate?

35% of total marks are the minimum AP Open School passing marks for each subject and aggregate.

Can I apply for admission to any board/University after passing the APOSS exams?

Yes, students can apply for admission to any recognized board or University after passing exams.

Will I get a pass certificate after passing 4 subjects?

No, students will have to pass at least 5 main subjects to achieve an APOSS pass certificate.

What is the meaning of * in APOSS result 2023?

In the AP open result for 10th and 12th Class, * refers to the old marks.