JK Board 10th Result 2023 Date – Jammu and Kashmir Board of School Education will declare the JKBOSE 10th Result 2023 in the month of May. Summer zone JK Board result 2023 10th class will be available on the official website of Jammu and Kashmir board once it's declared.
Students can easily download their jkbose.ac.in 12th result 2023 from the website and save it for their future reference. They will have to enter their roll number to access JKBOSE 10th class result 2023. The online JKBOSE result 2023 Class 10th will contain a student's basic details and marks details. Read more to know more about JKBOSE 10th result 2023 for Kashmir and Jammu Division.
JK Board 10th Result 2023 Dates
The Jammu and Kashmir board will announce JKBOSE result 2023 Class 10 on a specified date which is determined by board, based on the various factors. Below, we have tabulated the tentative dates related to jkbose.nic.in 10th result 2023:
JKBSE 10th result Date 2023
JK board will declare JKBOSE 10th class result 2023 for Jammu and Kashmir division. For Jammu division, JKBOSE 10th result is declared twice a year i.e. summer zone result and winter zone result. The board will release JKBOSE 10th result 2023 for winter zone Jammu and Kashmir division in the last week of December 2023.
| | |
| --- | --- |
| Event(s) | Date(s) |
| Exam Date for Jammu winter zone | October 2022 |
| JKBOSE 10th Result Date for Winter Zone Jammu | Last week of December 2022 |
| Kashmir Division Exam dates | October/November 2022 |
| JKBOSE 10th Class Result 2022 Kashmir Division | Last week of December 2022 |
JKBOSE 10th Result Kashmir Division & Winter Zone Dates
How to check the JKBOSE 10th Result 2023 Online?
Class 10 results can be checked online by students in the same manner of JK board 12th result 2023 by name. They will be able to check their JKBOSE result for 10th class by entering roll number.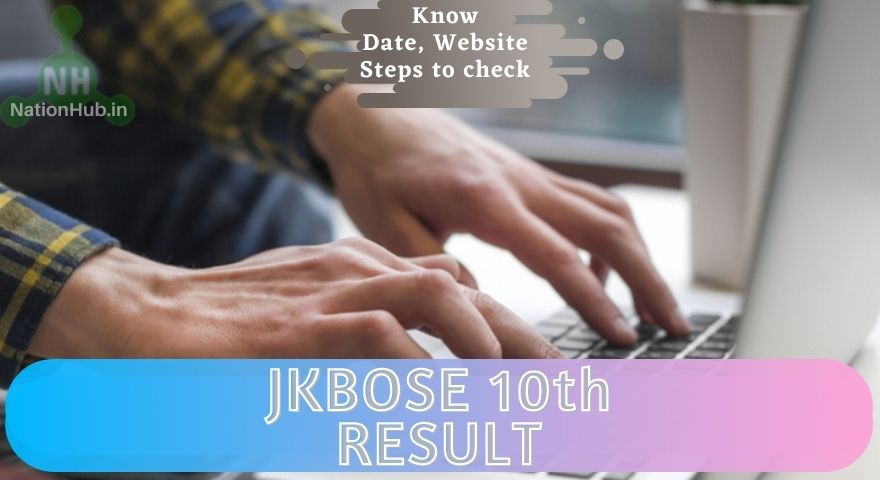 Below are steps to download the JK Board 10th result 2023 online from the website, students can follow them.
Open official Website: First of all, a student needs to visit the official link: jkbose.ac.in, then click on the tab that says 'Enter Main Site'.
Click on Result Link: Now go to the menu bar then open result link and click on the relevant link of JKBOSE 10th result 2023 for Kashmir or Jammu Division.
Enter Roll Number: After that, enter the roll number in the text box and click on the view results button to submit it.
Now, the online JKBOSE Class 10 result 2023 for Kashmir or winter zone Jammu will be displayed on the screen and you can also download it.
Take a printout or screenshot of the same and keep it safe.
The screenshot of JKBOSE 10th Class Result window:
JKBOSE 10th Result 2023 Name Wise
The board also provides the facility of JKBOSE 10th result 2023 search by name, so students can also enter their name to check their result. They can check their name-wise JKBOSE result for 10th class by following the given method:
Visit the result login window and click on the option of 'Search by name'.
Enter the candidate's name and submit it.
A list of similar names will open on the screen. Find a candidate's details and copy the roll number.
Now, follow the roll number method to check JKBOSE 10th result 2023.
Check JKBOSE 10th result 2023 via SMS
Open SMS application on phone.
Type a message in this format: JKBOSE10 (ROLLNO).
Now, send it to 5676750.
JKBOSE 10th class result will be sent as an SMS on the same number.
Details Given in JK Board 10th Result 2023 marksheet
JK board 10th result will provide personal details of a student along with marks details. Below are the details, which will be mentioned on the JK Board 10th Result marksheet.
Student's name
Father's name
Mother's name
Roll no
Registration no
Date of birth
Subjects
Subject-wise grade point
Grade point
Cumulative average grade point
Grade
Total marks
Qualifying status
The marksheet of JKBOSE 10th result 2023 will look like as shown below:
Passing certificate of JKBOSE 10th Result 2023
JKBOSE passing certificate will be provided to the student who gets JKBOSE Class 10 pass marks in 10th class JK board result 2023. This eligibility certificate will state whether the student has passed class 10 or not. The passing criteria for JKBOSE 10th result 2023 are explained below:
A student needs to secure at least 33% marks in each subject to pass each exam.
A student needs to secure at least 33% aggregate marks in five compulsory subjects excluding additional or optional subjects.
Along with this, he/she will have to score 33% marks in theory and practical exams separately.
Grace Marks in JKBOSE 10th Result 2023
JKBOSE provides the JK board 10th grace marks for a maximum of 6 marks.
If a student has a deficiency of 6 marks or less in a subject or more subject, then he/she will be awarded the required grace marks.
| | |
| --- | --- |
| Abbreviation | Meaning |
| P | Passed |
| F | Failed |
| S | Statutory Concession |
Meaning of Abbreviations mentioned in JKBOSE 10th Result 2023
| | | |
| --- | --- | --- |
| Marks Range | Grade | Result Remarks |
| 75% to 100% | A | Excellent |
| 60% to 74% | B | Very Good |
| 45% to 59% | C | Good |
| 33 to 44% | D | Average |
Grading System of JKBOSE 10th Result 2023
Rechecking of JKBOSE 10th Result 2023
If any student is not happy with marks or think that he/she might get more marks than obtained, then he/she can apply for the rechecking of JK board 10th result 2023 online.
How to apply for rechecking of JKBOSE 10th class result 2023?
Students need to contact school management to apply for the rechecking process or students can visit the official website of the JK Board. Students need to fill one rechecking application form with required documents and it will take 15 days to 1 month to get the rechecking result.
JKBOSE 10th re-evaluation result 2023 will be announced on the official website in the form of a pdf file. This file will contain the changes in result of each student who applied for re-evaluation.
Also Know About
What after JKBOSE 10th Result 2023?
After the announcement of JK class 10 result, students can choose Science, Commerce and Humanities stream for academic study to pursue in class 11 and 12.
Students opting for science stream have career options such as medicine and engineering.
Those choosing the arts stream can make their career in journalism, social work, teaching, etc.
Commerce stream leads towards some of the highest paying and respected jobs such as investment banking, chartered accountant, company secretaries, accounts and financial advisor etc.
JK Board Supplementary Exam
If any student does not score required marks in one or two subjects then he can apply for Supplementary exam. This is the second chance to pass exams and save academic year by covering JKBOSE 10th Class syllabus.
Students can apply for Supplementary exam on JK Board official website by filling an application form with required details.
JK Board 10th Compartment Result 2023
JKBOSE 10th date sheet 2023 for compartment exam is released in online mode. JKBOSE will declare the JK board 10th result 2023 for compartment exams in the 2nd week of August 2023. Compartment result is released in the same manner as the annual JKBOSE 10th result 2023 is announced.
After clearing the exam successfully, students can select their stream for their higher studies like art, commerce and humanity as per their interests.
| | |
| --- | --- |
| Particulars | Pass percentage |
| Pass percentage of boys | 75% |
| Overall pass percentage of girls | 81.02% |
| Pass percentage of government schools | 67.04% |
JKBOSE 10th result statistics of 2021
| | |
| --- | --- |
| Particulars | Details |
| Total students appeared | 53,807 |
| Passed students | 37,458 |
| Unqualified students | 16,222 |
| Girls appeared | 24320 |
| Girls passed | 17,501 |
| Boys appeared | 29,487 |
| Boys passed | 19,957 |
| Overall pass percentage | 70% |
| Boys pass percentage | 68.00% |
| Girls pass percentage | 72% |
JKBOSE 10th Result 2020 Analysis
| | |
| --- | --- |
| Grade | Number of students |
| A1 | 3,465 |
| A2 | 4,999 |
| B1 | 6,033 |
| B2 | 7,549 |
| C1 | 8,469 |
| C2 | 6,229 |
| D | 723 |
Grade-wise performance in JKBOSE result 2020
| | | | | |
| --- | --- | --- | --- | --- |
| Year | Overall Pass % | Boys' Pass % | Girls' Pass % | Total Students Appeared |
| 2021 | – | 75 | 81.02 | Around 30 thousand |
| 2020 | 70 | 68 | 72 | 53,807 |
| 2019 | 64.91 | 64.91 | 67.26 | Around 53 thousand |
| 2018 | 84 | 83 | 84 | 50,122 |
| 2017 | 83 | 84.6 | 81.45 | 50,293 |
| 2016 | 62 | 61.1 | 63 | 50,615 |
| 2015 | 72 | 74.5 | 68.8 | 50,535 |
| 2014 | 64 | 62.8 | 63.2 | 75,237 |
Previous years Statistics of JKBOSE 10th Result 2023
FAQs Related to JK Board Result 2023 Class 10
I have secured 40 marks in theory but failed in the practical exam, am I pass or not in the subject?

No, you are not passed. To get passing certificate, you need to pass practical and theory exams separately.

Which grade is allotted for 74.5 marks in JKBOSE 10th result 2023?

If a student secures 74.5 marks, then he/she will be awarded 'A' grade by rounding up to the next figure i.e. 75% marks.

What if I fail in the JKBOSE 10th compartment exam?

Then, you will have to appear for upcoming board exams. You can also get NIOS admission 2023 to transfer your marks from JKBOSE to NIOS.

Am I eligible for grace marks with 7 marks?

No, you are not eligible for grace marks. The board provides up to a maximum of 6 marks to a student.

Where can I check JKBOSE 10th result 2023 for Compartment exams?

You can check your JK board 10th compartment result on the official website by entering roll number.

Where can I collect my JKBOSE 10th marksheet?

You can collect original marksheet from respective school authority after few days of declaration of JKBOSE 10th result 2023