Independence Day Drawing Ideas: India will complete 77 years of independence this year. There are various competitions and drawings that are made on the day of independence to celebrate the auspicious events that took place in the history of India.
 This article comprises a variety of ideas that will help individuals take part in various independence day competitions in schools and colleges. Candidates can make drawings of the national flag, images of the freedom fighters, etc. The details mentioned above will help candidates learn more about Independence Day drawing ideas. 
Top Independence Day Drawing Ideas 
There are some of the best and most effective drawing ideas that will help candidates draw better drawings for various competitions in schools and colleges. They can use the subtle ideas mentioned above, which will help you learn about the drawing ideas for Independence Day.
Easy Independence Day Drawing Idea – Drawing the Indian Flag Inside a Globe 
One of the most interesting and unique ideas is creating an image of the globe or earth and placing the Indian flag inside it, representing how India is a part of the earth and paying homage to the country. You can present a combination between the globe and the national flag in a neat and concise manner. 
Source- https://in.pinterest.com/pin/720505640411261976/ 
Girl Saluting the National Flag 
Students can also prepare an independence day drawing by drawing an image of the girl in front of the national flag and, at the same time, saluting it. You can add trees and birds in the background to make the drawing more appealing.
Source- Jahanvi Aggarwal on Pinterest 
Drawings of Freedom Fighters 
Those who are willing to take their drawings up a notch must take images of some of the freedom fighters, such as Jawaharlal Nehru, Subhash Chandra Bose, Rani Laxmi Bai, Bhagat Singh, Mangal Pandey, etc. They can use the background as the national flag of India. A sample illustration of the respective idea is mentioned below.
 Source- Vivian's Arts & Crafts 
Creative Independence Day Drawing Idea – Two Piegons Holding the National Flag 
Another innovative idea is that you can draw two tiny pigeons who are carrying the national flag through their beaks and waving it in the air. This is a representation of the freedom of the country, which has been granted since August 15, 1947.
Source- Mercury Creative Art 
Beautiful Independence Day Drawing Idea – Love Symbol with Ashok Chakra & Wings 
One of the simplest and most creative options is to draw a love symbol with the Indian flag's contents inside it outside of it, then add the wings. This graphic represents the love and pride a person has for their country.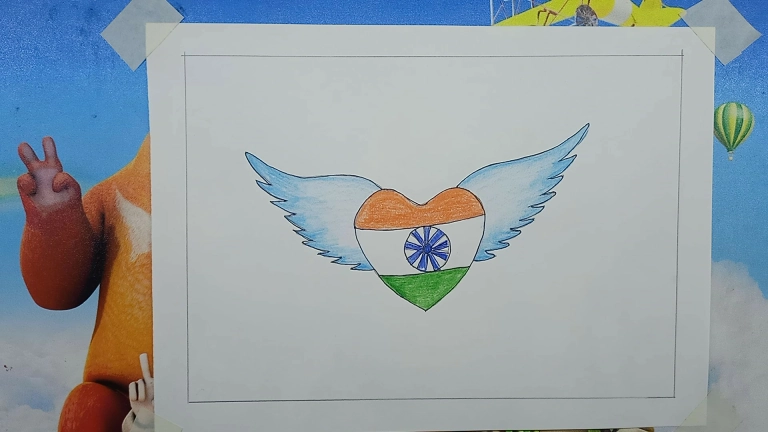 Source- Draw With Pappu 
Interesting Facts about Independence Day Drawing Ideas
There are a set of facts that are extremely interesting and innovative, and citizens of the nation must know about their country. A list of important facts regarding Independence Day is given below.
Before being adopted as India's national anthem, Jan Gan Man was also known as Bharato Bhaggyo Bidhata, which was written by Rabindranath Tagore in 1911.
The term India was derived from the name of the Indus River, emphasizing the prosperity of the Indus Valley civilization.
Pakistan commemorated its Independence Day on August 14th, when they were granted separate statehood at 11:30 p.m.
Along with it, five other countries commemorate their independence day: Baharain, the Republic of Congo, North Korea, and South Korea.
Also, Read: 
FAQs Related to Drawing Ideas for Independence Day 
What are some good ideas for drawing for Independence Day?

There are some topics, such as drawing the national flag, flags with wings, and many other ideas, provided in the article.

What is Independence Day in simple words?

Independence Day marks freedom from British rule, and the date on which India gained freedom was August 15, 1947.