Karnataka PUC Syllabus 2023 PDF Download – Department of Pre -University Education, Karnataka releases the Karnataka Board 1st & 2nd PUC Syllabus 2023 for the students. Karnataka 2nd PUC syllabus 2023 is made available on the official website i.e. pue.kar.nic.in.
PUC syllabus 2023 Karnataka board is released for all the subjects in PDF format. Students can use Karnataka PUC exam syllabus 2023 to know about  important topics, marking schemes, and exam pattern. Students must buck up and complete the PUC Karnataka syllabus 2023 by the release of Karnataka 1st PUC time table 2023 PDF. Read further to know the complete Karnataka PUC syllabus 2023 for first and second PUC exams.
How to download Karnataka PUC Syllabus 2023 PDF?
Karnataka PUC Syllabus is released in a PDF format. Students should read the KAR PUC syllabus carefully as it includes important topics, marking schemes, and exam pattern. They can download pue.kar.nic.in syllabus 2023 PDF by following the given steps:
Go to the official website: pue.kar.nic.in.
Click on the link of PUC Exam Syllabus 2023 PDF.
Choose Subject and the syllabus file of that subject will appear on the screen.
Take a printout or screenshot of Karnataka Board PUC syllabus 2023 PDF to use later.
Karnataka PUC Syllabus 2023 PDF Download Links
Tips to Cover Karnataka PUC Syllabus 2023
Firstly, the students should make a time table of the study properly to give sufficient time to each subject.
They should focus on each subject to cover it equally.
They should make short notes for the quick revision of the subject.
They should ask their doubts from the teachers without any kind of hesitation.
They should never leave their weak areas & concepts unattended.
They should always remember that practice makes a man perfect. So, practice regularly.
Also check Karnataka 2nd PUC Time Table 2023
Things to Remember about Karnataka PUC Syllabus 2023
The students should read the Karnataka PUC Syllabus to understand the exam pattern in a better way. They come to know about the marking scheme, a number of questions, duration of tests, etc.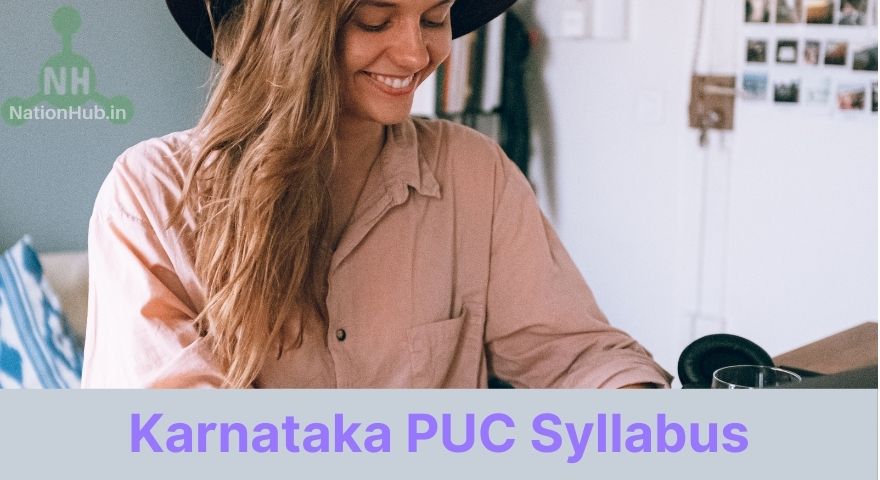 The Karnataka PUC exam pattern 2023 is as follows:
Karnataka PUC 2023 examination will be held in Kannada, Tamil, Malayalam, Marathi, Telugu, English, Sanskrit, & Urdu medium.
Out of the six subjects, two are languages & students can choose the other four from the ones provided below:
Biology, Business Studies, Computer Science, Chemistry, Economics, Electronics, English, French, Geography, Geology, Hindi, Hindustani Music, History, Home Science, Kannada, Karnataka Music, Logic, Malayalam, Marathi, Opt – Kannada, Physics, Political Science, Psychology, Sociology, Statistics, Telugu, Tamil, Urdu, etc.
The minimum Karnataka PUC Passing Marks for every paper are 35% marks.
Also read
FAQs Related to Karnataka PUC Board Syllabus 2023
What are the passing marks for the Karnataka PUC Exam?
What is the benefit of Kar PUC exam syllabus 2023
Going through the Karnataka Board PUC syllabus 2023 will acquaint them with the paper pattern and topic-wise marks distribution.