Assam HSLC compartmental Exam result 2023 – SEBA has published Assam compartmental result HSLC 2023 on July 26, 2023. Students can check and download SEBA HSLC compartmental exam result 2023 from the official website: results.sebaonline.org or compartmental-exam.seba.co.in.
SEBA Compartmental Exam Result 2023 Link: Click Here
Advertisement
Assam 10th compartmental Exam result 2023 date is expected to fall on July 26, 2023. Students unable to secure the passing marks in SEBA HSLC result in a maximum of 3 subjects can apply for the betterment exams. Read further to know about SEBA HSLC compartment result 2023, steps to check, details mentioned and more.
HSLC Compartmental Exam 2023 Result Date
Students can check all the dates related to compartment exam 2023 result date seba in the following table:
Assam HSLC Compartmental Exam Result 2023 Dates
Results will be declared through the Results Gazette in PDF format and the Roll Numbers of the candidates who are declared passed will be provided therein. Results Gazette can be downloaded from SEBA's official website sebaonline.org.
Students can also view their result and download the digital mode of Marks-Sheets from official website and mobile app.
Websites to check SEBA 10th compartment result 2023
Students can access the three websites to check their HSLC SEBA compartment result 2023:-
assamresult.nic.in
results.sebaonline.org
compartmental-exam.seba.co.in
Steps to download HSLC Assam compartment result 2023
Students need to have their roll number and registration number to check SEBA compartment result 2023 HSLC. They can follow the below mentioned steps to access their Assam 10th class compartment marksheet online:
Go to the official portal of Assam Board- "results.sebaonline.org".
On the home page, check the "Recent Announcement" section.
The link for Assam HSLC class compartment result 2023 will be available (once declared).
Click on the above link and enter your roll and number as given in SEBA admit card.
Now, fill the captcha in the required field.
Click on "submit".
SEBA compartment result 2023 class 10 will appear on the next screen.
Save and take a printout of the SEBA class 10 HSLC marksheet and take a printout for future uses.
Details mentioned in Compartment result 2023 SEBA 10th class
Candidates must see the following details in Assam Board class 10 betterment result PDF:-
Board name
Examination name
School name
Students name
Date of birth
Roll number
Registration number
List of subjects in SEBA HSLC syllabus 2023
Marks obtained 
Total marks
Results status (pass or fail)
SEBA Compartmental Exam Result 2023 may look like following image: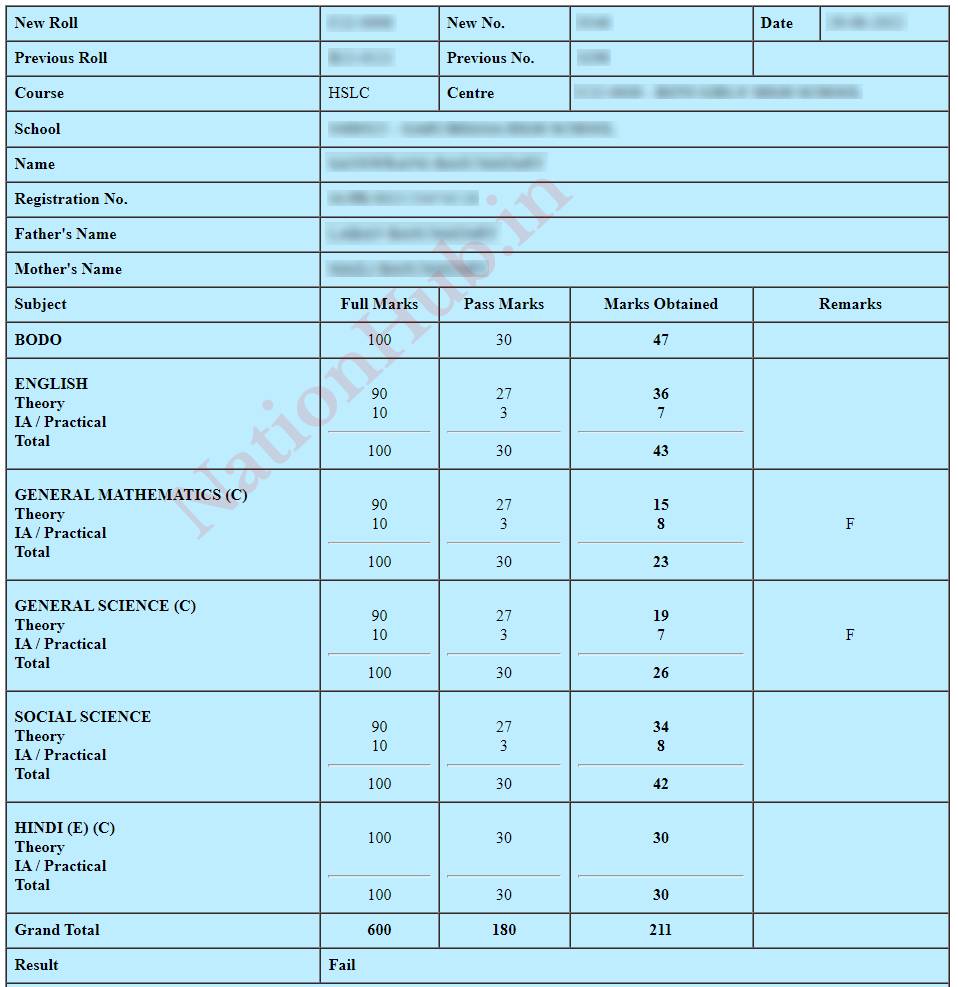 What after HSLC Assam compartment exams 2023?
Students who have qualified in SEBA HSLC compartment exam 2023, will be eligible to take admission in the higher academic course, class 11. They will be offered to choose their preferable streams (science, arts and commerce) based on their marks.
Candidates must collect their original copy of HSLC betterment result 2023 SEBA along with their pass certificate from their respective schools. They can further opt for a migration certificate, in case, they are deciding to leave the school or the current affiliated board.
Important criteria related to ASSAM 2023 HSLC compartment result
Students must secure SEBA passing marks of 33% (33 out of 100)  in each of the subjects they are appearing in SEBA 10th compartment exams.
In case, the students are not able to present in Assam HSLC compartment exams, they will not be eligible to take admission in the next academic course.
Students must go through all the details mentioned in SEBA HSLC compartment marksheet 2023. In case of any discrepancies, contact the respective school authorities.
FAQs Related to Assam HSLC SEBA Compartment Exam Result 2023
When will Assam HSLC Compartment result 2023 be released?

The compartment HSLC Result 2023 has been released on July 26, 2023.

What is the SEBA Minimum pass marks in Assam HSLC Compartment Exam 2023?

Candidates should score minimum of 33% in a subject to pass the exam.

Who can take Assam HSLC Compartment Exam 2023?

Students who are unable to score pass marks in maximum of 3 subjects can take Assam HSLC Compartment exam 2023.