Science Olympiad Foundation has published the IGKO 2023 results on sofworld.org on November 7, 2023. Students need to enter their roll number to view the SOF IGKO Results 2023-24.
Result Link: Click Here to Check IGKO Results 2023-24
Students' details and test scores are included in the SOF GK Olympiad results 2023-24. The IGKO exam result 2023-2024 is sent to the respective schools, along with a detailed Student Performance Report (SPR) and participating certificates. Using IGKO answer key 2023, students can estimate their marks and results.
IGKO Results 2023 Date
Students must browse through the given table to monitor the IGKO Olympiad result 2023 as well as other important dates of SOF results 2023-24.
SOF IGKO Results 2023-24 Dates
| Events | Dates |
| --- | --- |
| 1st SOF exam date | September 21, 2023 |
| 2nd exam | October 10, 2023 |
| IGKO 2023 results date | November 8, 2023 |
| Events | Dates |
| --- | --- |
| 1st exam | September 15, 2022 |
| 2nd exam | October 11, 2022 |
| IGKO 2022 results date | November 25, 2022 |
IGKO result Date 2022
How to Check IGKO Results 2023 Class 10th?
Students who took part in the IGKO 2023 would be entitled to see their results online. SFO also provides the GK Olympiad result 2023 to the relevant schools. Students may also obtain their IGKO Results 2023-24 through their local school officials. Follow the provided step by step procedure to check IGKO Results Online 2023:
Go to the official website, sofworld.org.
Locate and click the option that reads 'Results'.
Now, you will get access to the login page. To see the SOF IGKO Results 2023-24, choose IGKO from the drop-down list.
Now, input the roll number of students in the relevant areas as per given the following format.
Solve the captcha provided and input it in the given space.
Hit the "View Result" button.
The SOF IGKO Results 2023-24 will be shown on the screen, together with the students' scores and personal information.
Download SOF IGKO Olympiad results 2023 and print them out.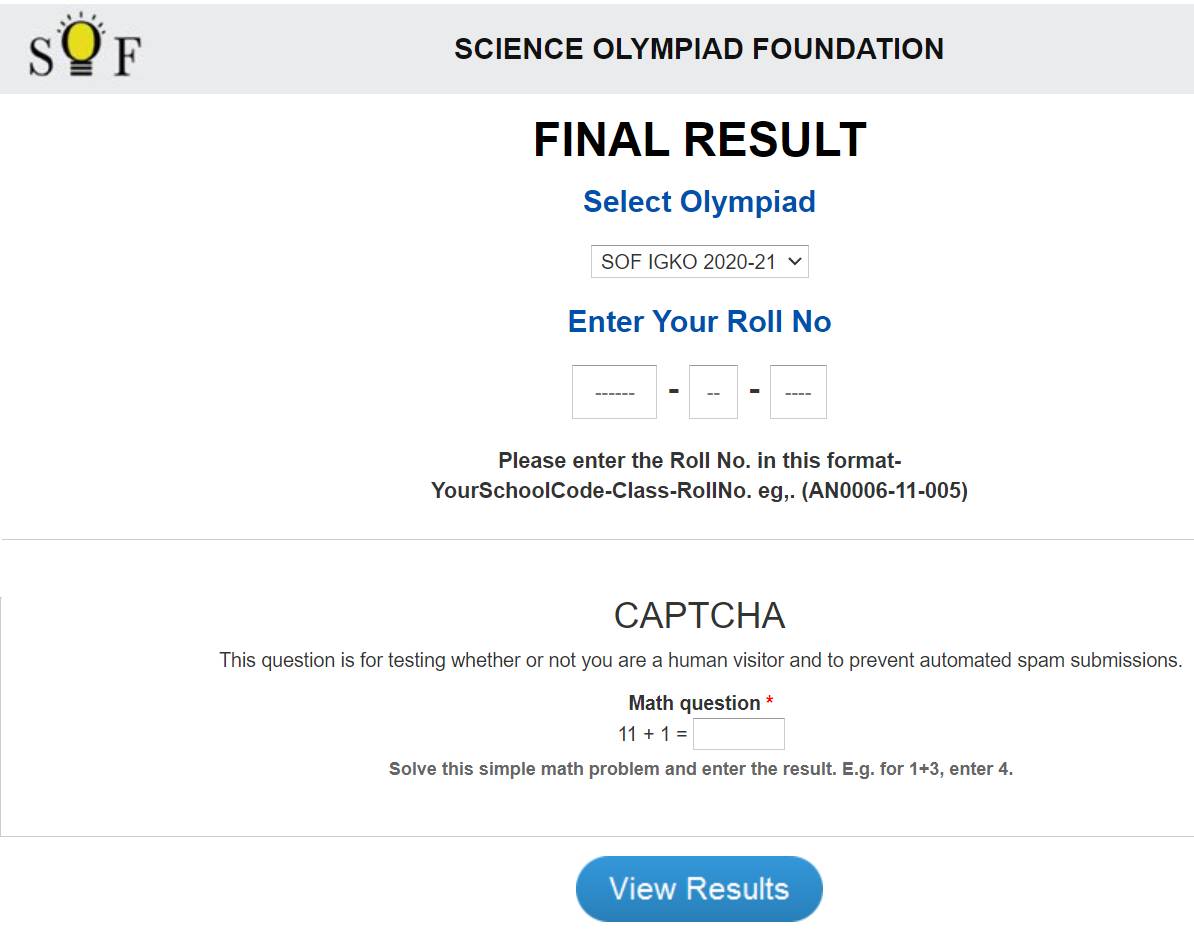 Same window is made available for IMO results 2023-24 and NSO results 2023-24, which students can check using roll number.
Details Mentioned in IGKO Results 2023 10th Class:
Students may discover the following information on their Olympiad test result 2023 IGKO.
Olympiad name
Student name as filled while SOF registration 2023
Class
Roll number
Section
School name
Marks scored
International Rank
International award earned
Zone rank
Zonal award earned
School Rank
School award earned
IGKO Olympiad Exam Ranking Criteria
SOF will rate the students, once the IGKO Results are announced based on the specified criteria for SOF award distribution–
Scores on the IGKO examination
Students who received the same score in IGKO test 2023 will be ranked according to their sectional performance. The final ranking will be determined by the weighted average of student's grades in each of the following sections:
| Priority | Section |
| --- | --- |
| 1st | Achievers section |
| 2nd | General awareness |
| 3rd | Current affairs |
| 4th | Life skills |
Ranking and tie-breaking criteria
If a tie exists in the IGKO Results 2023 after section-wise scores are taken into account, students' past class grades are taken into account.
If the tie still exists after following the aforementioned procedure, students will be given the same rank of SOF Olympiad 2023 exam.
What after SOF IGKO Results 2023-24?
Following the release of SOF result 2023 IGKO, the highest rank holders in the class are rewarded Gold, Silver, and Bronze medals.
Know About Class 10 Articles
FAQs Related to IGKO Exam Result 2023
What are the advantages of taking the IGKO Olympiad exam?
There are numerous advantages of taking the exam. Students may evaluate themselves academically on five levels – school, city, regional, zonal, and worldwide. Moreover, students may win interesting prizes and scholarships on the basis of their success in the exam. Prizes include monetary prizes, medals, gifts, certificates, etc.
What is the Student Performance Record (IGKO SPR)?
A Student Performance Record (SPR) is a comprehensive student performance comparison record. It evaluates the strong and weak areas of a student and compares him/her with other students at the school/region/zone level.
How many times may I sit for the IGKO Olympiad exam?
You may sit for the test each year. There is no limit on taking the exam. In reality, it will assist you in your academics and you will be able to enhance your score. You may also evaluate in whatever area you were weak the previous year and attempt to improve on that part.