ISC Class 12th Result 2022 Date – Council for the Indian School Certificate Examinations (CISCE) has released ISC result 2022 Class 12 Date in online mode. ISC 12th result 2022 Semester 1 has been released on February 7, 2022 at 10 am.
Result Link: Click here to check.
Latest: ICSE time table 2022 released.
Advertisement
ISC 12th exams will be conducted for first and second semester exams, separately. Students can check their ISC result 2022 Class 12 on official website, cisce.org. They will have to enter their Index no and UID in appropriate fields to check 12th ISC exam result 2022.
ISC result 2022 Semester 2 will be announced in May 2022. The students need to wait at least a week after ISC board result 2021 announcement to receive their original mark sheet which would be provided by their schools. Along with online cisce.org 2022 result ISC announcement, the board will reveal statistics and toppers details.
ISC Result 2022 Date
The board is expected to announce ISC 12th result 2022 for Semester 1 and Sem 2, separately. Here are some of the important dates you need to remember in the cisce.org 2022 result.
| Events | Dates |
| --- | --- |
| ISC Exam dates | November 15 to December 16, 2021 |
| ISC result 2022 Semester 1 date | February 7, 2022 |
| Result time | Around 10 AM |
ISC Semester 1 Result 2022 date
| Events | Dates |
| --- | --- |
| Exam dates | March 2022 |
| ISC Semester 2 result 2022 date | May 2022 |
| Result time | Around 3 PM |
ISC Class 12 Result 2022 date for Semester 2
ISC evaluation criteria of last year
Scaled Score (from Class 11 and Class 12 class tests) – 60%
Percentage subject project and practical work – 30%
Class 10 board percentage – 10%
| | |
| --- | --- |
| Exam Name | Indian School Certificate Examination (ISC) |
| Exam Conducting Body | Council for the Indian School Certificate Examinations (CISCE) |
| Result name | ISC result 2021 Class 12 |
| Official Website | cisce.org and results.cisce.org |
| ISC 12th Result 2022 Date | May 2022 |
| Last year date | July 24, 2021 at 3 pm |
| Result Declaration Mode | Online |
Highlights of 12th class ISC result 2022
How to check ISC Result 2022 Class 12?
The ISC 12th Result 2022 is to be released completely online. ISC board will be releasing their results through the portal cisce.org ISC Result 2022. The result checking process is as same as ICSE result 2022.
Students need to follow the steps given below in order to check their cisce.org result 2022.
Visit the official website cisce.org 12th result 2022.
Below you would see a link that says "ISC class 12 result 2022". Just click on that link.
Select the course and then enter your UID, Index no and submit it.
Your ISC result 2022 class 12th will appear right on your screen.
Check your ICSE 12th result 2021 carefully.
Below you would see an option to download your result. Click that link and download your result for future use. You can also take a printout and keep it safe.
The online results.cisce.org Class 12 window will look like the following image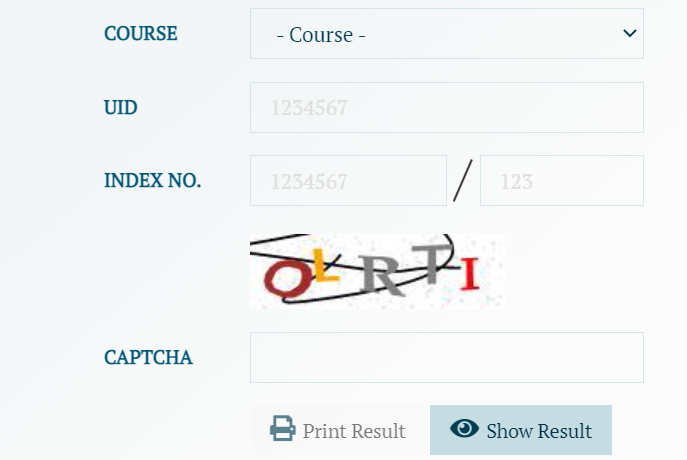 Related Articles
ISC result 2022 Class 12 by SMS
Students can check ISC 12th class result 2022 by SMS also. They need to send SMS to a specified number.
Type: ISC<Space><Unique Id>
Send it to 09248082883.
ISC Results 2021 Class 12 will be sent on the same number as an SMS.
Details Mentioned in ISC Class 12 Result 2022
The details of the cisce.org 2022 result Class 12 are given below. Students should ensure the accuracy of details given in online ISC result 2022 Class 12th marksheet.
Name of the candidate
Unique ID of the candidate
Date of Birth
School
Subject-wise marks
Grand total
Result status
ISC 12th Result 2022 Sample Image
What after ISC result 2022 12th class?
Only the students who had secured a pass percentage in their ISC 12th result 2022 would be provided with mark sheets. The students who failed in their ISC class 12th result 2022 would have an option to give compartment exams in the subject which they failed. ISC time table 2022 for compartment exams will be announced after a few days of result announcement.
Class 12 ISC result 2022 Passing Marks
The full mark of ISC exams 2022 is 500 but while calculating the total of the scores of only the three best subjects are evaluated. So, in cisce.org 2022 results the students need to attain at least 35% to get a pass. Also, know ICSE passing marks.
FAQs Related to ISC Class 12 result 2022
Where will be the cisce.org ISC result 2022 available?
The cisce.org result 2022 will be available on the website Cisce.org. Students must visit this site to get their results.
How to give compartment exams if we fail in ISC result 2022?
Only students who fulfil certain eligibility conditions can appear for ISC compartment exams. The details will be announced soon after ISC 12th result 2022.
What if the results mentioned in our ISC class 12 results 2022 went wrong?
In case of any discrepancy in online ISC result 2022 Class 12 marksheet, students should contact respective schools.