NTSE Delhi 2022 Form – Directorate of Education has released the NTSE Delhi registration form 2022 on November 15, 2021. NTSE Delhi application last date 2022 was November 30, 2021. Students can fill NTSE Delhi form 2022 online through respective schools.
The official website for submitting NTSE Delhi 2022 application form is edudel.nic.in.
Form Link: Click Here to download NTSE Delhi Notification and form 2022.
NTSE Delhi 2022 application forms and admission cards have to be downloaded by school's principals. Thereafter, they will distribute NTSE Delhi admit card 2022 among their students. After exam, NTSE Delhi answer key 2022 will be prepared by the directorate and published on edudel.nic.in. Students can calculate the probable scores of NTSE Delhi result 2022 by using the answer key.
| Events | Tentative Dates |
| --- | --- |
| Application start date | November 15, 2021 |
| Registration last date | November 30, 2021 |
| Admit card release date | December 3, 2021 |
| Last date to download admit card | January 15, 2022 |
| Exam date | March 2022 |
| Result date | April 2022 |
NTSE Delhi 2022 Exam Dates
NTSE Delhi 2022 Registration form
To apply for the NTSE Delhi, go to the official website of the Delhi Directorate of Education: edudel.nic.in. Applicants will be able to fill the NTSE application form starting from November 15 to 30, 2021 through respective schools.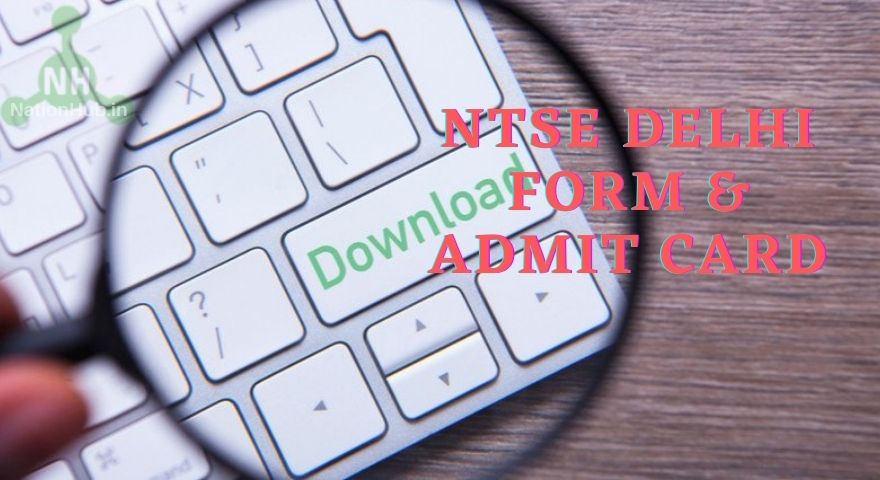 To submit an offline application for the NTSE Delhi, follow the procedures listed below:
The Head of School will register the students on Directorate of Education website www.edudel.nic.in with their own school login ID and Password.
After opening the website, click on School Plant.
Choose scholarship and it will open a new page for NTSE Delhi 2022 application.
Now, click on the 'School information entry form';
Open the 'Application form' and fill NTSE Delhi Registration form 2022 with student details.
Verify the form and final submit it.
Important Note from the Directorate:- The Head of Schools are directed to provide only EWS (Economic weaker section)_certificate not Income certificate for the candidates who claim to be
under EWS (Economic weaker section) category. If, EWS certificate is not provided by the candidate then he/she will be treated as General candidate.
NTSE Delhi 2022 Eligibility Criteria
Stage 1 of the NTSE test requires candidates to pay close attention to the NTSE eligibility requirements. This may lead to the cancellation of applicant's NTSE Delhi form 2022 without any notice.
To be eligible for NTSE Delhi 2022, students must be in class 10 for at least one full academic year during 2021-22.
Candidates must have completed class 9 in a recognized private school, such as KVS, JNV, NDMC, from a government, government-aided, or unaided school.
Class 9 grades must be at least 60% (or 55% for those in the SC/ST categories).
NTSE Delhi Application fees 2022
The State Liaison Officer can provide you with information on the application fee and payment method. Only the Stage I test costs money, whereas the Stage II test is free to take for selected students only.
Know about
NTSE Delhi Admit Card 2022
Candidates who successfully register for the NTSE Delhi exam 2022 will get an admission card for the exam. Stage 1 NTSE Delhi 2022 admit cards will only be made available by through respective schools in the same manner of NMMS admit card 2022.
Directorate of Education, Science Branch will generate NTSE Delhi Roll Number 2022 of the candidates and allot Centre of Examination by 03 December 2021.
Schools will take print out of the NTSE Delhi admit card 2022 duly attested by HOS and issue 2 (Two) copies to the students up to 15 January 2021.
Delhi NTSE admission cards are available for students to pick up from their respective institutions.
To sit for the exam, students must have their NTSE stage 1 admission card with them.
Students and test information, such as exam location, day, and time, are listed on their NTSE Delhi admit card 2022.
The Delhi NTSE answer key 2022 will be made available by the Delhi Directorate of Education in form of table or through NTSE OMR sheet. On the day of the test, a few preparation centers will leak the NTSE 2022 answer key online before it is officially released.
Each question on the NTSE 2022 test has a corresponding answer in the answer key. Students may estimate their test results using the NTSE Delhi Answer key.
Also, check
FAQ (Frequently Asked Questions) Related to NTSE Delhi 2022
What is the expected NTSE Delhi 2022 cutoff?
The general category cutoff is anticipated to be anywhere between 170-180 points.
What will the NTSE Delhi 2022 syllabus be like?
For the Delhi NTSE 2022, students should study the 9th and 10th-grade curriculum.
What are the best study guides for the NTSE Stage 1 examination?
For science and social science, students should use NCERT textbooks and a few reference books like Lakhmir Singh.