AISSEE Exam Instructions 2023 – National Testing Agency or NTA has specified some Sainik School exam instructions 2023 for the upcoming exam which is expected to be held on January 8, 2023 (tentative). Candidates who are going to appear for the same must know and follow these instructions and guidelines for Sainik school admission 2023.
Following these Sainik School exam instructions will help NTA to conduct exam smoothly. Sainik School instructions 2023 for candidates are given below:
Sainik School Exam Timing for 2023
This year, the candidates will have to report at their respective exam centre at around 1 PM. The exact reporting time is mentioned on the Sainik School admit card 2023. However, they will be able to get entry till the time gate is closed.
Candidates are allowed to sit at their respective seat from 1:15 pm to 1:30 pm.
The gates of all Sainik School exam centres will be closed at 1:30 PM. No candidate will be allowed to enter the exam hall after the Gate Closing Time.
Thereafter, the documents and admit card of candidates and Sainik school undertaking form will be verified as per Sainik School Exam Instructions.
The test booklet will be given to the candidate at 1:45 PM. Students can write their particulars on the booklet at 1:50 PM.
The exam will begin at 2 PM for Classes 6 and 9. Students can start marking answers in Sainik school OMR Sheet PDF.
For Class 6 candidates, the exam will conclude at 4:30 PM, while that for Class 9 candidates, will end at 5 pm.
No candidate is allowed to leave the exam hall before the end of the examination.
Which Booklet Candidates will Get?
Candidates who opted for English or Hindi in application form would be provided a bilingual exam booklet (i.e. English and Hindi).
Candidates who opted for any regional languages in application form would be provided with the exam booklet in the language opted by him/her.
Also, read Sainik School preparation tips
Sainik School Exam Instructions 2023 – What to Carry?
On exam day, candidates must carry the following documents and things to the exam hall.
Sainik School admit card with passport-size photograph and thumb impression affixed on it.
Sainik School Self-declaration form or Undertaking form: Students will have to fill the AISSEE undertaking form with their health issues (if any), travelling history of last 14 days and other important details as asked.
One passport-size photograph.
Valid and original photo ID proof (PAN card/School ID Card (with Photo)/Passport/ Aaadhar Card(With photograph)/E-Aadhaar/Ration Card/Aadhaar Enrolment Number with Photo)
A simple transparent ballpoint pen
Also, carry COVID-19 prevention-related these things: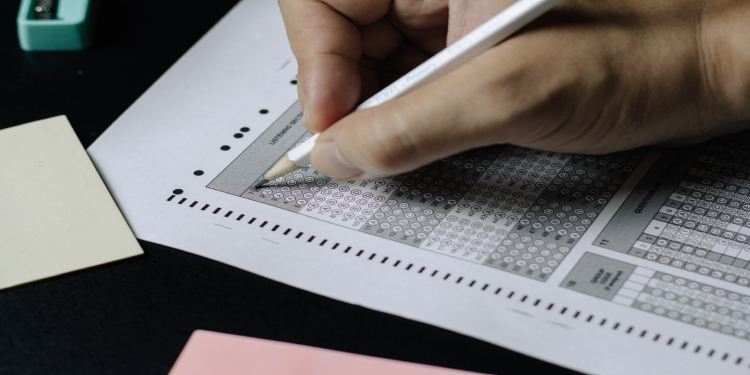 Personal hand sanitizer (50ml)
Face mask and gloves
Related pages
Sainik School Instructions 2023 – What NOT to Carry?
Candidates are suggested not to carry the following things to the exam centre as they are not allowed. Else, they will have to keep the barred items outside the examination hall.
Any study material 
Any stationery item like) geometry/pencil box, Plastics Pouch, calculator, scale, writing pad, etc.
Mobile phone, Bluetooth or any other communication device.
Wallet, handbags, goggles, belt, cap etc.
Watch, bracelet, etc.
Ornaments /metallic items
Food items (opened or packed)
As per Sainik School Exam Instructions, if a candidate is found carrying any barred item during the exam, it will be considered as the use of 'Unfair Means'. In such a case, NTA will take action against the candidate as per the relevant provisions.
How to mark response in Sainik School OMR Sheet 2023?
Candidates should darken/ bubble/ shade only one circle (1 or 2 or 3 or 4) to mark their answer, so that the letter/ number inside the circle is not visible.
They should not mark two or more circles, it will be considered as an invalid answer and no marks will be given for such multiple answers.
The correct and wrong method for darkening the answers is given in the following image:
After the completion of examination candidates should wait for instructions from Invigilator. They should not get up from their respective seat until instructed. Invigilators will ask the candidates to move out, one at a time, only.