GMAT Registration 2023 is administered by the Graduate Management Admission Council (GMAC). The organising body has not announced a fixed timeline for GMAT 2023 registration; rather, it accepts the GMAT application form 2023 throughout the year.
It provides candidates with a great deal of flexibility. Additionally, candidates have the option of choosing their preferred test centre and GMAT 2023 exam dates. In this article, we will tell you everything you need to know about the GMAT registration 2023.
Eligibility Criteria for GMAT Registration 2023:
Candidates should meet the below mentioned criteria for a successful GMAT 2023 registration online:-
GMAT Age Limit
There is no upper age limit, the candidate must be 18 years old or above to take the exam.
Candidates between the ages of 13 and 17 can take the exam, if they have permission (in written) from their parents or legal guardians.
Educational Requirements for GMAT Exam Registration 2023
GMAC has not issued any official declaration regarding the minimum educational requirements for candidates.
To enrol in the MBA programme, candidates must have a graduate degree in any discipline from a recognised university.
GMAT Total Attempts
One can appear for GMAT Exam maximum of five times in 12 month duration
The maximum limit for appearing in GMAT is 8 times in a lifetime.
If you get an 800 on the GMAT, you must wait five years before retaking the exam because it is the top of your scoring scale.
Each time you take a new GMAT try, you have to restart your GMAT exam registration 2023.
Procedure of GMAT Registration 2023
The GMAT exam can be taken online or at a test location. Aspirants can proceeds with GMAT registration 2023 using the following methods: –
GMAT 2023 Online Registration
Candidates can register for the GMAT 2023 online at "www.mba.com". They must first create a profile and then, begin filling out the stages. The detailed overview of the registration process is given in the upcoming section of this article.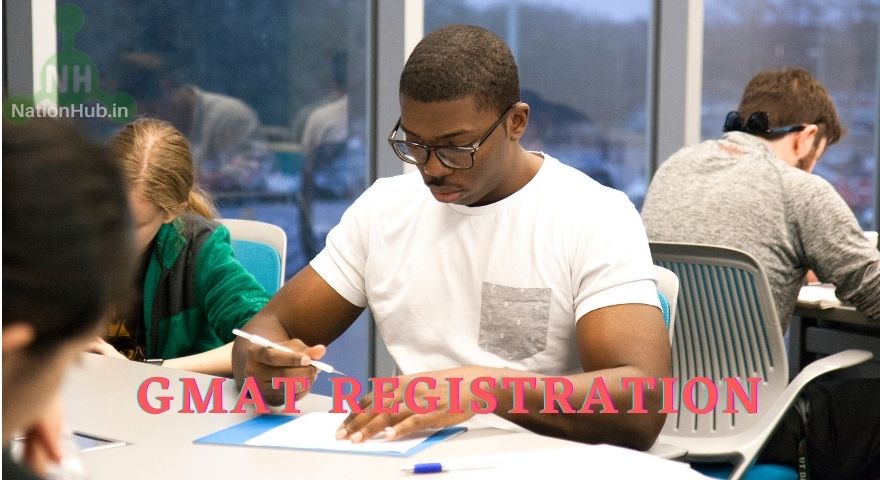 Steps for GMAT Registration 2023 Online
To decide when you wish to begin studying for the GMAT, ensuring that you have adequate time to prepare. It is suggested that you register for the GMAT exam date 2023 two months prior to the exam date. To reserve a GMAT slot, complete the procedures below.
Visit official website of GMAT exam registration 2023; mba.com and click on create an account. Proceed with the required details- First name, last name, e-mail address and password.
Go to the 'Exams' tab on the top of the page and select 'Register'.
Start creating a GMAT profile by adding the following personal information (as stated above).
Verify your account.
Choose your convenient GMAT Test Centre.
Finally, select your preferred GMAT exam date 2023.
GMAT Registration 2023 Important Note:-
Candidates can select up to three test centers to check the availability of the preferred dates.
You can choose between a morning or an afternoon exam time when scheduling your exam.
The availability of GMAT exam dates is regulated by the local test centres; as a result, it is recommended that you start looking for dates well in advance.
GMAT 2023 Registration by phone
Candidates can register for the GMAT by calling the GMAT customer service number in their area. They must pay an extra US$10 service fee. Customer assistance for GMAT India can be reached at 0120 4397830. Lines are available from 9 am to 6 pm (Mon- Fri).
GMAT exam Registration 2023 via Post
Candidates must fill up an GMAT application form on mba.com. They can pay for their GMAT registration fee using a check or a money order. Download the application form and send it together with the GMAT exam fee payment details.
Details required for GMAT Registration 2023
Candidates would require the following details for enrolling into GMAT exam:-
Full name as mentioned on the passport
Date of Birth
E-mail address
Phone number
Nationality
Correspondence Address
Education Details
Work Details (Optional)
Payment details (Credit/Debit Card)
Also read
FAQs Related to GMAT 2023 Exam Registration
What is the deadline to cancel GMAT registration 2023?

You can cancel within 7 days before your test date. In this scenario, your GMAT registration fee of $50 will be refunded. However, a refund is not applicable if you cancel the GMAT Registration between 7 days and 24 hours before your test date. 

Can I cancel my GMAT registration before 24 hours of the test date?

If you cancel your registration within 24 hours of your GMAT test date. In case you are not able to appear at the exam your name will be reflected as ' no show'. No refund of the registration fees will be applicable in the scenario.

Do I have to pay any additional GMAT registration fee 2023 if I reschedule my exam?

You can reschedule your exam for a charge of $50 up to seven 7 days before your GMAT appointment. If you want to reschedule your exam within seven 7 days of the original date, you will forfeit the $250 registration cost and will have to pay a new GMAT exam registration fee 2023.  

Can I apply for the GMAT Exam from any nation?

The GMAT exam is not restricted by nationality. Applicants from all corners of the globe are invited to apply. GMAC's rules and regulations apply to everyone (regardless of their nation of origin) on an equal footing.

Do I need any work experience to register for the GMAT Exam?

The number of years of experience you have in the industry setting before applying for the GMAT is rarely a factor in your eligibility. You can either be a newcomer, experienced professionals or even an aspiring student. In any case, you are eligible for GMAT registration. Your academic performance and work experience will be combined together to rank your application by B-School admissions staff. They look at a variety of things like your resume, work experience certificate, accomplishments, and certifications, among other things.

What is the medium of language for GMAT Exam 2023?

GMAT exam registration and exam taking language is English.
Even, if your primary language of instruction in school and/or college was not English, you are eligible to take the GMAT.
Many students with non-English academic backgrounds have acquitted well on the GMAT by taking the right approach and putting in the necessary effort.