Jawahar Navodaya OMR Sheet 2024 PDF Download – Navodaya Vidyalaya Samiti (NVS) releases the New JNV OMR sheet 2024 pdf for Class 6 and 9 in online mode. NVS OMR sheet 2024 sample pdf file is made available on navodaya.gov.in and in this article.
Advertisement
NEW JNV OMR Sheet PDF Link: Click Here for new version. (Size: 3.89 MB)
OLD Navodaya Answer Sheet PDF Download Link: Click here for JNV OMR sheet pdf download HD file as released by NVS. (Size: 1.4 MB)
Students will have to mark their answers in the JNVST new OMR Sheet 2024 Class 6 which is provided to them during examination. They can visit the JNV OMR sheet 2024 pdf download link given above and take some printouts of it. If they do not have any printer, then they can get one copy printed from nearest cyber cafe and get the printout photocopied for practicing with it.
How to Download New Navodaya OMR Sheet 2024 PDF?
Students can download Navodaya Answer sheet 2024 pdf through the link given above and solve the question paper on it. After that match their answers with answer key to know the probable scores in Navodaya Vidyalaya result 2024 Class 6. They can follow the given steps for downloading JNVST OMR sheet Navodaya PDF:
Click on the link given above.
A PDF file will appear on screen.
Press the 'Down Arrow' button to save JNV Answer sheet PDF sample.
Note: Students must know that we found only JNV OMR sheet for 80 questions on the official website. If they are looking for Navodaya omr sheet for 100 questions, then they can reach to the respective schools or Samiti Officials.
How to Fill JNV OMR Sheet 2024?
Students can fill Navodaya Answer sheet 2024 copy by following the steps given below:
1. Match Your Test Booklet Number and Code
There will be test booklet number and test booklet code on the OMR sheet and question number. First of al, you should match your OMR test booklet number and code with the Question paper booklet number and code. Make sure they both are same. If Both are same, then start solving your paper else ask the invigilator for new Navodaya OMR sheet and question paper.
2. Fill details on Question Paper
Write your roll number and name on Question Paper. Do signature at appropriate place
3. Enter Roll number on Side 1 Page
Now, open side 1 page of your new Navodaya Vidyalaya OMR Sheet 2024. Enter your seven digit roll number in the given space. Fill one box with one digit only. Read all other details on the JNVST OMR sheet 2024.
4. Fill Roll number on Side 2 Field 1
Now, move on to the next page and enter student's roll number. Enter one digit in each box. Thereafter, darken the respective circles (completely) for each digit, carefully. The complete process of filling the roll number is shown below.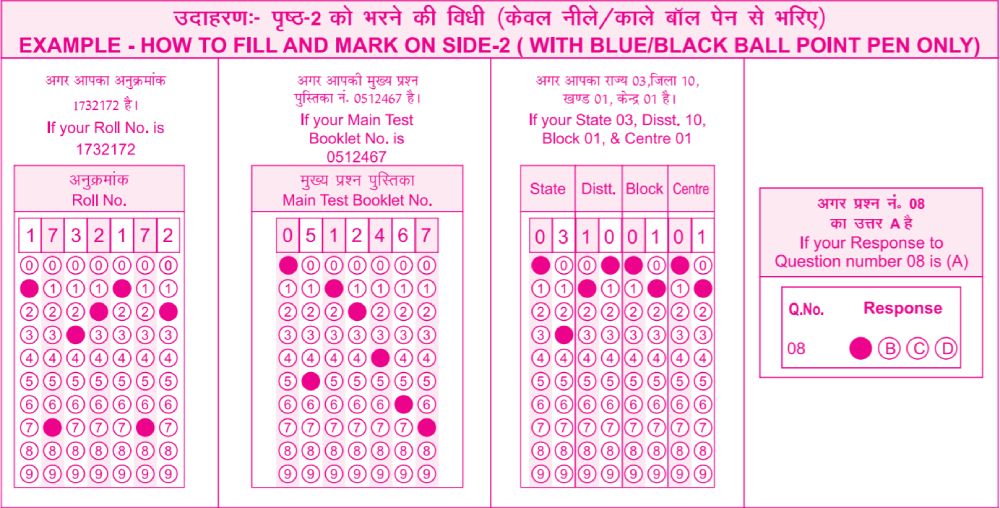 5. Fill Test Booklet number on Side 2 Field 2
In the next field, enter your test booklet number (as given on question paper and JNV New OMR sheet). Darken the respective circles of test booklet number as shown in above image.
6. Write Candidate's Name and Father's Name in Field 3 and 4
Now, you will have to enter your name in the field number 3 in CAPITAL LETTERS. Thereafter, enter your father's name in the field number 4, that too in CAPITAL LETTERS. Write names in the given box only. Do not get the name cross this box.
7. Skip Field Number 7
You need to skip the field number 7 (State, District, Block, Centre). This field is filled by invigilators. They may fill it while doing signature on the OMR Sheet. So, do not touch it.
8. Do Signature of Candidate in Running Hand
Next field name is 'Signature of Candidate in running hand'. Most of the time, students confuse with this field, they generally ask a common question What is the meaning of full signature of candidate in running hand? Here, we have explained it.
Running hand signature means that the one which you did during filling form of Navodaya Vidyalaya Admission 2024, which you did on your admit card and which you are using for other official things. The same signature you need to put on the OMR sheet which is a part of candidate identification.
After doing this signature, you are all done with details filling in the OMR sheet.
9. Start Solving Paper & Filling Answers in OMR Sheet
This is last but very important phase. Solve your question paper and fill the right option in the Navodaya OMR Sheet.
For Example: If the answer of first question is option 'D', then fill your answer by darkening the circle 'D' of first question space in OMR sheet. See the answer filling process in following image: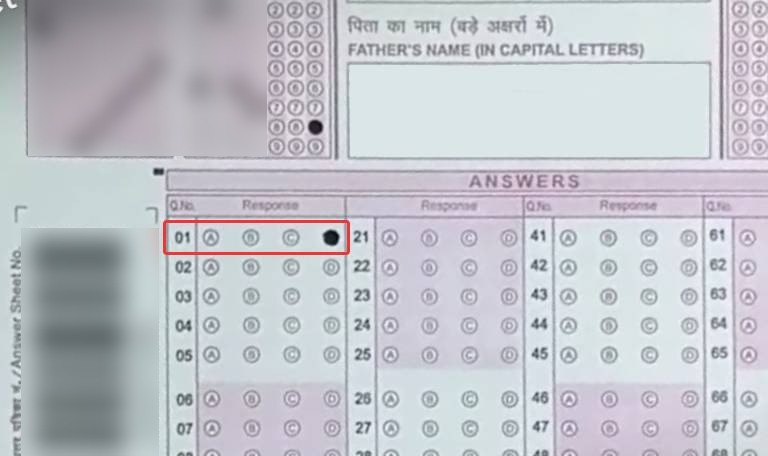 Things required to Fill JNVST Answer Sheet 2024
Blue/Black ball-point pen (Candidate need to bring)
JNV admit card 2024 (Download online and take a printout)
Question paper (Will be provided along with answer sheet): The question paper will have 16 pages in total. The last page i.e. 16 page will be blank page for rough work.
Navodaya Answer Sheet 2024 Class 6 Instructions
A separate Jawahar Navodaya Vidyalaya OMR sheet PDF Class 6 2024 (Optical Mark Recognition) is provided to each candidate.
Candidates are required to darken their answers at an appropriate place on the Sample JNV OMR sheet for Navodaya.
A copy of specimen Jawahar Navodaya Vidyalaya OMR sheet sample is available on the official website of NVS: navodaya.gov.in.
Class 6 students need 80 questions JNV omr sheet 2024 pdf download as their paper will contain a total of 80 questions. Class 9 exam will contain a total of 100 questions so they need 100 questions NVS OMR sheet PDF download.
Read Navodaya OMR Sheet 2024 Instructions in Hindi
Instructions for JNVST OMR Sheet 2024 Class 6 and 9 Answers Submission
Use only Blue/Black ball-point pen to darken the NVS exam answers on the Navodaya OMR sheet 2024.
Use of pencil is strictly prohibited.
Darken the circle completely.
For each question, there are four probable answers, out of which, only one is correct.
The candidates should select the correct answer and darken the respective circle only.
For example, if your answer for Question no. 15 is C, then, darken the circle under C.
Please do not make any stray marks on the JNV OMR sheet 2024.
Check other OMR Sheets
Only ONE CIRCLE for each question can be darkened in Navodaya OMR sheet image 2024 as shown below:
Important Note: The candidate should tally the Booklet Code printed on Side-2 of the OMR Sheet with the Main Test Booklet. In case of discrepancy, report the matter to the Invigilator and ask for replacement of both the Main Test Booklet and the JNV OMR Sheet 2024.
Also read
FAQs Related to NVS OMR Sheet 2024
Is this JNV OMR sheet free to download?

Yes, this OMR sheet of Navodaya Vidyalaya exam is free to download. Students do not need to pay any penny for it.

How many questions are there in Class 6 OMR sheet?

6th class NVS OMR sheet 2024 contains space for a total of 80 questions.

Can I carry exam OMR to home?

No, students are not allowed to carry their Navodaya OMR sheet 2024 to their home. They will have to submit it to the invigilator immediately after exam.

Can I change answer in NVS OMR sheet 2024?

No, students are not allowed to do any change in the answer filled in Navodaya OMR sheet 2024. So fill your answers carefully.

Can I do rough work on JNV OMR sheet 2024?

No rough work is not allowed to do on JNVST OMR sheet 2024 Class 6 and 9. So use the separate sheet for rough work.