NEET Counselling 2023: The NEET UG 2023 counselling schedule by MCC will be released on mcc.nic.in. Candidates can participate in the process of counselling by the link to be provided in this page. Read below to know more about NEET exam counselling 2023.
NEET 2023 Counselling Important Dates
Candidates appearing for the NEET, should keep a track record of the important dates for NEET UG counselling 2023 by MCC. Please check the table below to know the schedule of the NEET 2023 counselling.
| | | | |
| --- | --- | --- | --- |
| Events | Round 1 | Round 2 | Mop Up Round |
| Registration and Payment | To be announced | To be announced | To be announced |
| Choice Filling | To be announced | To be announced | To be announced |
| Process of Seat Allotment | To be announced | To be announced | To be announced |
| Results | To be announced | To be announced | To be announced |
| Reporting to the given colleges | To be announced | To be announced | To be announced |
What is the 15 percent AIQ NEET 2023 counselling programme?
MCC will be conducting four rounds of counselling which are Round 1, Round 2, Mop Up round and the stray vacancy round. Except for the Union Territory of J&K, candidates who meet the requirements for the All India Quota would be eligible based on their NEET UG result 2023. After round two of NEET 2023 counselling in AIQ, seats that are still available will be returned back to the states.
The following will be included in the AIQ for NEET counselling in 2023:
15% of States' seats are MBBS/BDS seats
100% of BHU's seats are for MBBS and BDS.
100% of AIIMS's MBBS seats are available throughout India.
JIPMER's All-India Quota (Puducherry/Karaikal)
AMU, DU, VMMC, and ABVIMS seats under the All India Quota
All India Quota Seats in Dentistry Faculty (Jamia Milia Islamia)
ESIC seats with an all-India quota
Also read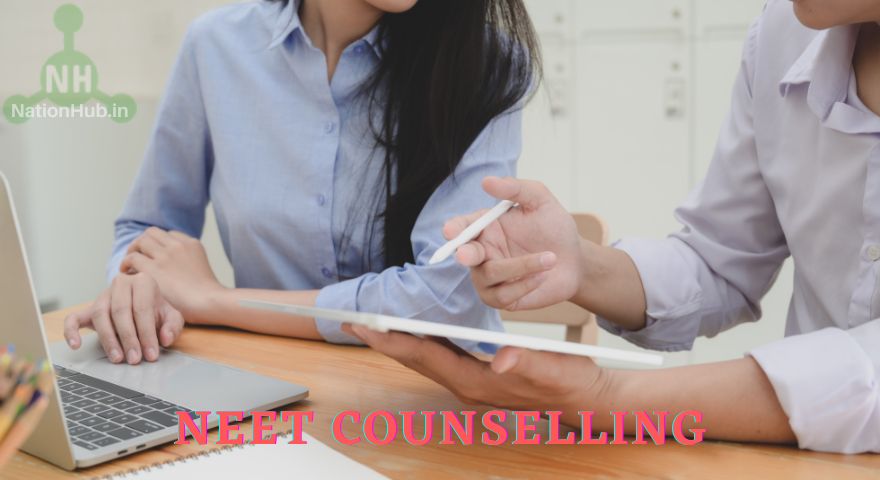 Important Points about NEET Counselling 2023
Those candidates who are looking forward to take admission to BDS or MBBS courses under AIQ, AFMS college, and deemed university, are available throughout the country which is decided by MCC for the NEET 2023 counselling process. The seats available for the NEET 2023 counselling are as follows;
All seats at deemed universities, central universities, Employees' State Insurance Corporation (ESIC), American Funds for Medical Care (AFMC), Delhi University (DU), BHU, AMU, AIIMS & JIPMER, and 15% of seats at all government medical and dental colleges are only available through the AIQ NEET 2023 counselling process. It's crucial to remember that J & K are not a part of this procedure.
State Quota Seats for NEET UG Counseling:
State NEET Counseling 2023 will be used for admissions to 85% of seats in government colleges and 100% of seats in private unaided/aided minority/non-minority medical/dental colleges in the state.
NEET Seat allotment 2023 process is completed as per the available seats.
Eligibility criteria for NEET Counselling 2023
Candidates who have passed the NEET examination are eligible to submit an application for NEET 2023 counselling.
Without the permission of MCC, candidates from Jammu and Kashmir would not be permitted to attend All India NEET counselling.
All NEET qualified applicants can participate in the AIQ counselling for Deemed Universities.
NEET 2023 Counselling Criteria for Central Universities
Candidates who completed their 12th class in Delhi will be given 85 percent of institutional quota seats and 15% of All India Quota seats, respectively.
For applicants to AMU schools who have been enrolled for the previous three years, there is a 50% institutional reserve. The remaining 50% of seats will go to candidates from across India.
Seats for BHU is open to all the candidates.
47 seats are available to candidates for the All India Quota, and 3 BDS seats fall under the internal quota of JMI. Students from Jamia Schools who have received their 10+ 2 diplomas may apply for an internal quota.
For students who completed their 10+2 in Delhi, there are 15% seats designated for All India and the other seats are designated as Institute Quota.
NEET 2023 Counselling Process
Candidates must be aware of the counselling process for NEET 2023 by MCC. In the counselling process for AIQ there will be four rounds, which includes mop up round and a stray vacancy round. Steps to follow to become the part of NEET counselling 2023;
Step 1: Finish the MCC NEET registration process for counselling, which includes making a payment.
Step 2: Filling out and locking the NEET 2023 counselling option form
Step 3: Round 1 seat distribution and result disclosure
Step 4: Reporting to the designated Medical or Dental College along with the possibility of free entry or exit.
Step 5: Net vacant seats for Round 2 are published.
Step 6: Filling out a new NEET counselling round 2 choice form and registering for counselling (not mandatory for applicants who have already registered).
Step 7: Seating allocation round two (exit with forfeiture of security amount option available)
Step 8: Enrolling in medical and dentistry schools in order to prepare for round 2 (candidates once joined the allotted seat are not allowed to vacate the seat).
NEET 2023 Counselling Process Step-by-Step
Step 1: NEET counselling registration
Candidates who are qualified and eligible must register at mcc.nic.in. The NEET roll number, registration number, applicant's name, mother's name, and date of birth must all be entered. Next, make an online credit card or debit card payment for the NEET counselling charge and security fee.
Step 2: Filling in choices for NEET 2023 counselling
Candidates must create a mock application and list their top college preferences. If they want to know their chances of enrolling in college based on historical data, they can utilise the NEET college predictor. They can select from this list of options for the NEET counselling procedure in 2023.
Step 3 : NEET 2023 Seat Allotment
As soon as they are made available, candidates must log in and download their seat allocation letters. The first round offers a free exit, and the second round offers a forfeiture exit.
Step 4: Reporting to the Allotted College
A candidate must report to the assigned college to finish the admissions procedures after getting a seat allocation. It is not required to report or join during the first round. Those who want to upgrade or take the seat must join and report. If applicants don't want to risk losing their security deposit by choosing not to participate, seat allocation must be followed by reporting and joining in the second round. Candidates must bring the originals of the required documentation upon reporting to the designated college.
Documents required for NEET 2023 counselling
Below given is the list of documents which is necessary for the students to carry with them when going for NEET Counselling 2023.
Admit card of NEET 2023 exam
Scorecard of NEET
Mark sheet of class 10
Mark sheet of class 12
ID proof
Passport size photos
Caste certificate (if eligible)
PwD certificate (if eligible)
Candidates who are NRIs or OCIs who are applying to deemed universities must submit the following paperwork. embassy certificate and sponsored passport copy
Affidavit of sponsorship (stating that sponsorer is ready to bear the expenses for the whole duration of study)
Relationship Declaration (Relation of Candidate with the sponsorer)
Related Articles
FAQs Related to NEET Counselling 2023
What if we don't want to take the college allotted? 
In case, a candidate doesn't wish to join the college allotted by MCC then he/she can take a free exit after round 1 and sit for round 2.
Do we get charged for leaving the counselling in between? 
If the candidate leaves the counselling after round 1, then he/she will not be charged for exiting but in case they leave after round 2, then a certain amount will be charged from the refundable fee deposited. 
How much fees is charged in NEET Counselling 2023 for AIQ seats? 
For the 15% AIQ seats, Rs 1000 will be charged as a non refundable fees from students belonging to unreserved category. Along with it Rs 10,000 will be charged as a refundable security fees. However for the NEET reserved category students, the deposit fees is Rs 500 and the security fees is Rs 5,000.