CA Exam Dates 2023 – Institute of Chartered Accountants of India (ICAI) administers CA exams dates and exam guidelines in India. ICAI CA exams are held twice in each year(May and November) for all the four courses, namely- Foundation, Intermediate, Intermediate (IPC), and Final CA exams 2023.
Depending on how the previous level of the CA course is progressing, candidates can register for the exam during either of these two cycles. Once the 2023 CA exam dates are determined by ICAI, candidates will be able to check it from ICAI official web portal, icai.org. In this article, we will provide you with an overview of CA 2023 exam dates, important events and other related details.
ICAI CA Exam Date 2023
The below table highlights of CA exam timetable 2023-
Important criteria related to related to CA Exams dates 2023
Aspirants must know the following underlined factors regarding the exam dates CA 2023-
The CA Final enrollment period is open all year round according to ICAI. Candidates are urged to review the registration deadlines and CA Final eligibility requirements.
The exam application form should be filled out carefully. Candidates who want to take the exam (at any session) should fill out the exam form with or without the applicable session's late fee
The ICAI also provides the option to modify a previously completed exam application form. During the time that the correction window is available, anyone who filled out the exam form incorrectly or who wants to amend something can update their information (e.g., change in exam centre).There will only be one opportunity to use the rectification window.
How to check CA exam date 2023?
Students can follow the given steps to know their CA exam 2023 timetable:-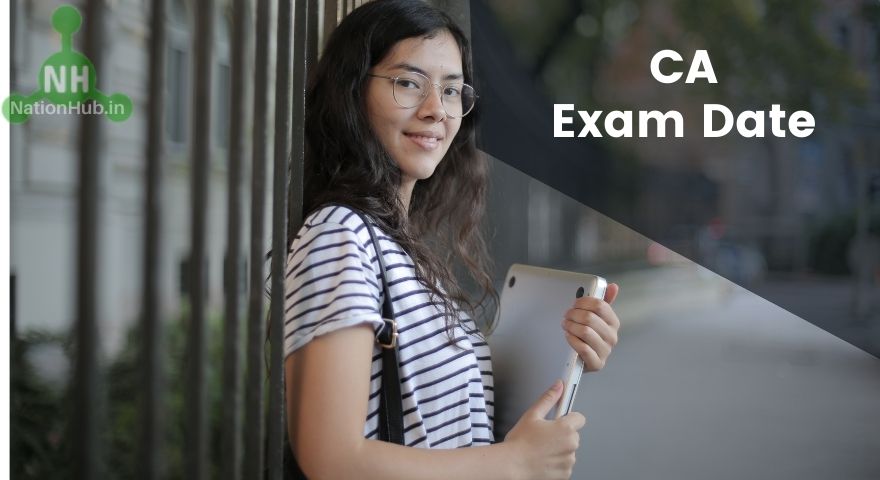 Visit to the official web portal of ICAI; icai.org.
On the bottom homepage, check the 'important announcement' section.
Link for 2023 CA exam date PDF will be available (once released).
Once you click on the above-mentioned link, CA test timetable 2023 will appear on the next screen.
Save and take a printout of CA exam date 2023 for further uses.
Exam day instruction for CA test 2023
Candidates must always have an ICAI CA admit card 2023 with them when taking exams. Only candidates who successfully complete the exam application will be allowed to download their admission cards. No candidate will receive a hard copy of their CA Final admission card via postal mail from ICAI. Therefore, it needs to be obtained from the ICAI's official website.
Candidates must be well aware of their CA exam syllabus 2023, the exam pattern and should focus on completing the entire course before the exam date. Additionally, ICAI administers practice exams to aid applicants in understanding the general paper format. Mock exams are free to take for candidates who have already registered for the CA Final exam in November 2023. This will be an added advantage, in enhancing their accuracy level and confidence.
Lastly Candidates should be particular about the CA exam timings on the exam day. Try to reach the exam centre at least 15- 30 minutes before the exam starts. Students should strictly follow the instructions mentioned on their admit cards about their belongings which are permitted in the exam hall. Most importantly, ensure that you crack the exam in an honest and fair means.
CA Test Date 2023 – Things to Remember
ICAI CA 2023 exam centres will be assigned to the candidates depending on their preferences and the availability of seats. The CA exam 2023 admit card will include information about the allotted exam location and centre.
Students will not receive the new 2023 ICAI CA admit card, in case they make any changes in their exam centre later on. The details will remain the same. However, they must provide the authorization letter along with the ID proof and admit card.
Also read
FAQs related to CA Exam Date 2023
Where can I check CA 2023 exam dates?
Candidates can visit icai.org, the official web portal of ICAI, to check 2023 CA test dates.
Will the CA exam date 2023 be postponed?
ICAI has yet not prescribed any official notice regarding the revision/change of CA 2023 timetable.
What if I am not able to appear on CA exam date 2023?
Under any circumstances, if a candidate is not able to appear on the determined 2023 CA exam date, he/she can apply for the upcoming ICAI CA exam date (as per convenience).